The Further Multitonic Change Probe
John Coltranefs gGiant Stepsh is a notable example for the use of multitonic changes based on the notes of descending B (B-G-Eó/G-Eó-B) and ascending Eó (Eó-G-B-Eó) augmented triads. One may notice that all the permutations of an augmented triad can be basically divided into ascending (1-3-ò5, 3-ò5-1 and ò5-1-3) or descending (ò5-3-1, 3-1-ò5 and 1-ò5-3).
Taking this one step further, consider the other gfour-noteh symmetrical groups of limited transposition. There are only three types of four-note groupings that are symmetrical groups of limited transposition: (1) 1-ó3-ó5-6 <diminished>, (2) 1-4-ó5-7 <1-ó2-ó5-5 in inversion>, (3) 1-3-ó5-ó7 <1-2-ó5-ó6 in inversion>. The permutations of 1-4-ó5-7 and 1-3-ó5-ó7 can be schematized in Ex-1 and 2: (NOTE: 1-ó3-ó5-6 is omitted for lack of space)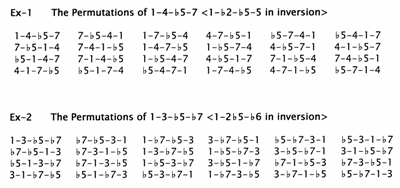 In fact, the tabulated permutations of Ex-1 and 2 provide soloists and writers with a feast of ideas to probe into the possibilities of multitonic changes. Consider Joe Lovanofs gIn The Land Of Ephesush from his CD gTenor Legacyh (Blue Note 27014). It seems probable that he subconsciously uses a combination of 1-4-ó5-7 and 1-3-ó5-ó7 to form the progression of the song (Ex-3):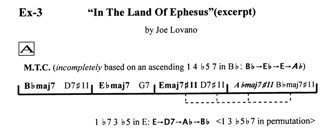 The key structure of Bó-Eó-E-Aó is incomplete to form an ascending 1-4-ó5-7 (because gAóh is óVII of Bó). In exchange, Lovano adds a new twist to the tail of four-bars: E-D7-Aó-Bó (completely based on a permuted 1-3-ó5-ó7 in E: 1-ó7-3-ó5).
Using the variations of permuted patterns, the harmonic idea of gIn The Land Of Ephesush can be ambitiously reorganized (EX-4):

The four bars of Ex-4 are based on an ascending 1-4-ó5-7 note group in Bó, yielding the key structure that moves from Bó-Eó-E-A. The last two bars (within the four bars) are composed of a permuted 1-4-ó5-7 (i.e., 1-7-4-ó5) in E, yielding a chord progression that moves from E-Eó7-A-Bó. Use Ex-4 for reharmonizing (or superimposing) jazz standards (ex. gTune Up,h gWhat Is This Thing Called Love?h etc.) where the key of Bó <II-V-I> occurs.
2003©masayayamaguchi